What is a Hostel and Awesome Tips for Picking a Good One
In response to a few readers asking, "What is a hostel?", I've decided to make a travel resource answering what a hostel is. I also want to provide some great tips I've used over the years to discover superb hostels around the world.
A detailed post outlining the some of most handy gear on the market, and the stuff I use as I wander the world.
What is a Hostel
MY DEFINITION OF HOSTEL
A Hostel is a shared accommodation that is a favorite or backpackers and budget travelers.
What is the Difference Between Hostel and Hotel? – Staying in a hostel means you are paying for a bed, not a room. Basically it is a dorm that you are sharing with strangers from around the world.
While this thought can be intimidating, I've had nothing but good experiences and I've stayed in hundreds when backpacking throughout Europe, Asia, America, and Africa.
What is a Hostel Like? – Shared living might lead you to the impression that staying in a hostel is dirty.
In my experience, most hostels are clean, but it is important to use websites like Hostelworld to check out the ratings and read the reviews before booking.
Hostels have a lively and energetic atmosphere. Most hostels have a common room where guests gather to discuss their travels, cook meals, and share a few drinks. Staying in a hostel is a fantastic way to meet other backpackers.
If you are traveling solo, dorms are the fastest and easiest way to make friends.
There are a few hostel chains, companies that have hostels throughout a continent or the world. A few popular hostel chains are St. Christopher's, Youth Hostel International, Generator, and Lub ' D.
Where to Book A Hostel
The most popular hostel booking site is Hostelworld.
They have thousands of hostels, B & B's, and hotels around the world. Although if you are going for an Apartment or B&B then I would use an Airbnb promo code. (Sign up using this link and get $40 off your first stay with Airbnb)
Hostelworld's site is user-friendly and has tons of reviews. I always use Hostelworld.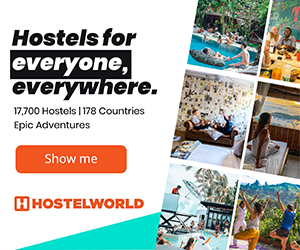 Latest Travel Blogs(Read More)

What is a hostel Room Like?
There are three main types of rooms available in hostels: dorms, dorms with ensuite, and private rooms.
What is a Hostel Dorm Room Like?
Hostel Dorms – A hostel dorm, as mentioned previously, is a room shared with other travelers.
I've been in hostel dorms with as little as 6 people and as many as 16. The number of people in the dorm ranges from hostel to hostel.
In a typical hostel dorm, there won't be bathrooms inside the rooms instead the bathroom is often down the hall and is communal.
Not to worry though the bathrooms usually have multiple showers and toilets.
Dorm rooms are also the cheapest option when staying in hostels. A typical dorm starts around $10 in Asia, and around $20-$25 when backpacking Europe. If you are worried about sharing a dorm with the opposite sex, there are a lot of hostels that provide female, male, and mixed dorms.
My experience in hostel dorms – Honestly this is my preferred way to travel. Dorms are a fantastic way to meet other backpackers when traveling solo.
People in the same dorm become fast friends, and usually go out for dinners and drinks together. I've met people I have gotten along with so well that I have changed my travel plans to go with them.
What is a Dorm With An Ensuite
Hostel Dorm with a Ensuite – A dorm with an ensuite is much like the dorm described above except for a few minor details. The biggest difference is that a dorm with an ensuite has a bathroom in the room. Dorms with ensuites are typically smaller and only shared by a few people.
Keep in mind dorms with an ensuite are typically more expensive.
What is a PRIVATE ROOM?
Hostel Private Rooms – Private rooms are exactly what they sound like. Private rooms in hostels are much more expensive than dorm rooms, but still significantly cheaper than staying at a hotel.
Hostels also have private group rooms which makes it a fantastic option if you are traveling in a group.
My experience in Private Rooms – Treating yourself every once in a while is essential when traveling for months or years. Hostel dorms offer very little privacy, and sometimes it is good to escape people stumbling into the room at all hours of the night. I prefer dorms for the social aspect, but sometimes it is nice to have privacy.
However, they are usually double or triple the cost of a dorm room so if you are looking to make your money last, go for the dorms.
Let's talk about what hostels are like around the world. I'll also give you some rough estimates of the price in each region of the world I cover.
Of course, all these prices change frequently.
But they are a good stepping stone to planning your hostel tips.
Hostels in Europe
Backpackers in Europe thrive off the variety of hotels. Europe has some of my favorite hostels in the world. Of course, all these prices change frequently.
A couple of the major hostel chains across Europe are St. Christophers and Wombats. There are some seriously cool hostels in Europe! One Europe travel tip I tell everyone is to at least stay in a hostel a few nights.
Hostel Prices – Dorms in Europe start are around $20 – $25 a night. Rooms with Ensuite $25-$35. Private Rooms can range from $40 -$70.

Hostels in Asia
Hostels in Asia are typically cheaper than hostels in Europe, but usually, don't have as many comforts
Still hostels in Asia rock. They are full of friendly backpackers and travelers. They are a fantastic place to make friends and get some info on place in Europe to visit while traveling.
Hostel Prices – Asia is huge so prices vary a lot. Dorms cost from $3- $15. Rooms with ensuite $15-$25. Private rooms $20-$50.
Hostels in Oceania
Australia and New Zealand are the land of cool hostels. However, these are not the cheapest countries to travel in the world. Likewise hostels are closer to Europe prices.
However, I started a New Zealand travel blog, because the country is so amazing it deserves to be explored.
Likewise, Australia is wonderful. My advice is to bite the $ bullet and plan a trip to both of these countries.
Hostel Prices – Dorms range from $15 – $30. Ensuites from $20-$40. Privates from $30 -$70.
How to Pick a Good Hostel
As I briefly talked about earlier, checking ratings and reviews is important when booking a hostel.
Let's look at an example and I will share tips on how to determine if it is a good hostel or a bust. For this example I will look at The Yellow in Rome.
They are typically cheaper than hostels in Europe, but usually, don't have as many comforts Still hostels in Asia rock. They are full of friendly backpackers and travelers.
They are a fantastic place to make friends and get some info on places to visit while traveling.
Using Hostel World to Find A Good Hostel
In the middle, we see info about the property and some of the things they offer. Right off the bat I notice "The Yellow was voted the #1 hostel in Rome".
This, of course, grabs my attention. This hostel is already looking like a winner.
On the right, we can see all the reviews by people who have stayed at this hostel. The next thing I look for is how many people have reviewed this hostel.
The fact that The Yellow has 9,693 reviews and still has an 86% rating tells me two things.
1- This hostel is extremely popular. Meaning it will be busy and a great way to meet people.
2- It has almost 10,000 reviews and is still in the high 80's. Meaning that chances are this hostel is fantastic.
Looking at the number of reviews is key. Sometimes you have hostels with a 95% but only a couple reviews. This is not enough information to tell you if the hostel is great.
As a general rule I think anything over 75% is acceptable, anything in the 80's is good, and anything above 90% is excellent.
An 86% with 9,693 reviews – I would say is superb.
The next three things I look at our atmosphere, location, and security. These are personal preferences as they are the most important things to me. They all have ratings in the high 80's. This hostel is looking better and better.
Now you might be asking yourself, "What about price?".
There is a good reason why I didn't mention the price before.
I want a central location.
There is no point paying for a cheap dorm that is miles away from the heart of the city.
Yes, hostels tend to drop in price the farther you go from the city center, but chances are you will spend more money traveling into the city than you would have by staying there.
Also, you are wasting valuable time traveling on buses getting back and forth.
Going deeper into the reviews you can see what people liked and disliked about staying at the hostel.
The Yellow is one of my favorite hostels in the world. Personally I think the rating should be much higher than an 86%.
I hope this travel resource answers the question, "What is a hostel?" as well as provide you with a couple tips on how to pick a choose a good one while backpacking around the world. 
What is Hostel Life Like?
Hostel life is a unique experience that embraces community, exploration, and diversity. It's not just about finding a place to rest your head at night, but also about immersing yourself in an environment that breeds friendship and cultural understanding.
As a young person entering a hostel, one of the first things you're likely to encounter is the common area. This space is usually a hub of activity, where fellow travelers gather to share meals, exchange stories, and plan their next adventures. Whether it's a lively game of cards, an impromptu guitar performance, or just a shared pot of coffee, the common area is where some of your most memorable hostel moments will likely happen.
When it comes to sleeping arrangements, hostels typically offer a range of options, with the shared room and the mixed dorm being the most common. These rooms are filled with bunk beds that provide a cozy, if not a little snug, spot to rest after a day of exploration. Hostel beds may not offer the luxury of a five-star hotel, but the experience of lying on a bunk bed, listening to the gentle rustling of your roommates, and perhaps even the soft strumming of a guitar from the common area, is an experience like no other.
Perhaps one of the most distinctive aspects of hostel life is the communal bathroom. It might seem strange at first, especially if you're used to having a private bathroom, but it's all part of the communal living experience. It's also a place where etiquette and respect for fellow travelers come into play, helping to enhance the sense of community that makes the hostel experience so unique.
In essence, hostel life is a vibrant blend of shared experiences, communal living, and multicultural exposure. It's about sleeping in a bunk bed in a shared room or mixed dorm, about navigating the intricacies of a communal bathroom, and about socializing with fellow travelers in the common area. It's these elements, amongst others, that truly encapsulate the unique and unforgettable hostel experience.
What different types of hostels are there?
Exploring the world is a fascinating endeavor. Whether you're traveling alone or with a group, accommodation is always a key consideration. One of the most economical and sociable options available are hostels. There are several types of hostels to choose from, each with unique characteristics and advantages. In this blog post, we'll delve into four main categories: party hostels, budget hostels, backpacker hostels, and boutique hostels.
Party Hostels
Often referred to as the lifeblood of a city's nocturnal scene, party hostels are hubs of socialization and fun. Perfect for travelers looking to make new friends, enjoy the local nightlife, and participate in numerous organized events, these hostels typically offer a vibrant, energetic atmosphere.
Most party hostels have a bar on-site or partner with local establishments to offer special deals for their guests. They also organize numerous activities, such as city tours, pub crawls, game nights, and BBQs. Bear in mind that tranquility might not be a staple in these places, so if you're a light sleeper or prefer peace and quiet, this type might not be for you.
Budget Hostels
If keeping your travel expenses to a minimum is your priority, budget hostels are your best bet. These facilities focus on providing the basic needs of a traveler – a bed to sleep in, shared bathroom facilities, a communal kitchen, and usually, free WiFi.
Although the amenities might be simple, the sense of community in these places can be unmatched. Budget hostels attract travelers of all types and from various walks of life, making them great places to meet fellow travelers, share stories, and even find travel companions.
Backpacker Hostels
Backpacker hostels are similar to budget hostels, but they are more geared towards travelers on long journeys, often offering specific services and facilities that cater to their needs.
These hostels typically have communal spaces for relaxation and socialization, luggage storage, travel desks to assist with local tours and transport, and sometimes even job boards for those looking to work as they travel. They also tend to be located close to key transit routes or city centers, making them a practical choice for explorers on the go.
Boutique Hostels
The new kids on the block, boutique hostels combine the affordability and social atmosphere of traditional hostels with a dash of style and luxury. These hostels aim to provide a unique, high-quality experience, often featuring designer décor, private rooms with ensuite bathrooms, plush bedding, and more upscale amenities.
Boutique hostels might also have themed rooms or unique architectural features, adding to their charm. They usually have communal areas too, but these are often more stylishly decorated and might even include extras like a café, a book library, or a rooftop terrace.
In conclusion, the variety of hostels ensures that there's a perfect fit for every type of traveler. Whether you're looking for a party, traveling on a budget, backpacking across the country, or seeking a bit of luxury on a dime, there's a hostel out there just for you.
Don't forget to consider the type of experience you're looking for when choosing your hostel. Happy travels and enjoy your stay!
Have you stayed in a hostel? What is your favorite hostel from your travels?
Check out hostelworld to book your hostels.